Deltoid synurus [Synurus deltoides (Aiton) Nakai], belonging to the daisy family, is widely distributed in northeast Asia. The plant grows in the mountains and has long been used as a wild vegetable and medicinal plant in Korea. Some Korean farmers grow the plant in vinyl greenhouses. Damping-off symptoms were frequently observed in young deltoid synurus plants grown in a farmer's vinyl greenhouse located in Hwacheon, Gangwon Province, Korea, during a disease survey in July 2019. The symptoms initially appeared on plant stems and petioles at the soil line. The infected plant tissues receded and were thin, discolored, and rotten. Diseased plants fell down and later blighted (Fig. 1A and 1B). One hundred plants in the vinyl greenhouse were investigated in triplicate. The incidence of disease among plants was 5-30%.
Rhizoctonia sp. was consistently isolated from diseased deltoid synurus plants. Five isolates of Rhizoctonia sp. were obtained from lesions of the diseased plants and identified as R. solani Kühn based on the morphological characteristics described in previous studies [1,2].
The isolates were evaluated to classify anastomosis groups using tester isolates of R. solani, as previously described [3]. The R. solani tester isolates AG-1 (KACC 40101), AG-2-1 (KACC 40119), AG-2-2 (40125), AG-3 (KACC 40138), AG-4 (KACC 40139), and AG-5 (KACC 40146) were obtained from the Agricultural Microbiology Division, National Institute of Agricultural Sciences, Korea. All the tested isolates were classified as R. solani AG-1. Anastomosis reactions between the tested isolate and the tester isolate of R. solani AG-1 are shown in Fig. 2A. Mycelia of the isolates cultured on potato dextrose agar (PDA) were light brown to grayish brown (Fig. 2B). Sclerotia were produced separately or aggregately on the medium, and their surface was usually mycelioid or wooly. The culture type of the isolates was identified as IB of R. solani AG-1, based on the cultural characteristics described in a previous study [4].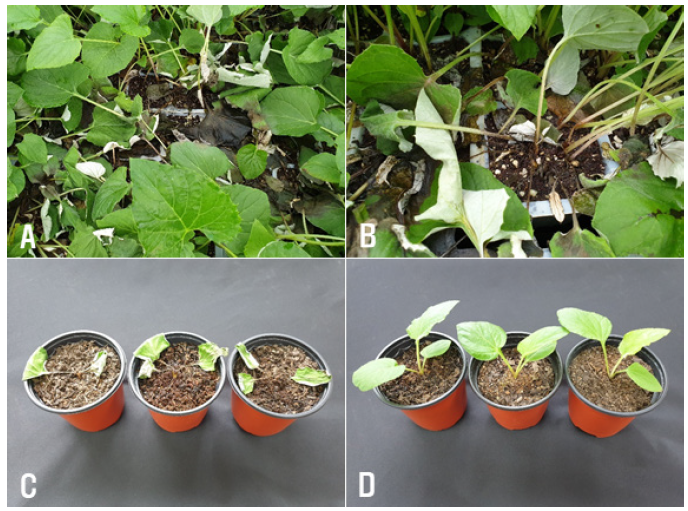 Three isolates of R. solani AG-1 (IB) were tested for pathogenicity on deltoid synurus using artificial inoculation. Mycelial disks of 6 mm diameter were cut from the margins of actively growing cultures of each isolate on PDA, and placed at the soil surface level of 36-day-old deltoid synurus plants grown in circular plastic pots (height, 9 cm; upper diameter, 10 cm; lower diameter, 7 cm) in a vinyl greenhouse. Inoculated plant pots were placed in plastic boxes (60×43×33 cm), with 100% relative humidity, at room temperature (24-26℃) for 24 hr. Then, the inoculated plant pots were removed from the boxes and kept indoors. The virulence of the isolates was rated based on the severity of damping-off symptoms three days post inoculation. The inoculation test was performed in triplicate.
All the tested isolates of R. solani AG-1 (IB) induced damping-off symptoms in the inoculated plants (Fig. 1C), whereas no symptoms were observed in the control plants (Fig. 1D). The symptoms induced via the artificial inoculation of plants were similar to those observed in plants from the vinyl greenhouse investigated. The isolates that induced symptoms on the plants were re-isolated from the lesions.
R. solani is reported to cause damping-off in various crops [5-7]. Neverthless, this is the first report of R. solani AG-1 (IB) causing damping-off in deltoid synurus.